Department of Architectural Engineering & Design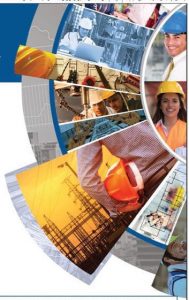 The Department of Architectural Engineering and Design was established first time in Pakistan at University of Engineering and Technology Lahore in the year 2001. The department is offering 4-years B.Sc. Architectural Engineering, M.Sc. Architectural Engineering, M.Sc. Integrated Building Design and PhD in Architectural Engineering. The Architectural Engineering program is blend of Architecture and Engineering and the emphasis of the Program is to give quality education to the students and prepare them for the building industry of Pakistan as successful professionals with innovative and multi-disciplinary approach. The department has enrollment of average 50 students per batch in undergraduate program. The Graduates of Architectural Engineering are working in various national/international organizations and enjoying good repute. The demand of Architectural Engineers has increased rapidly during last few years resulting 100% placement of graduates in private and public-sector organizations. An Architectural Engineer having background of multidisciplinary knowledge on various areas of buildings has a greater opportunity for employment and contribute in the areas of his/her choice. The major areas of curriculum include Architectural Design, Building Structures, Building Materials & Construction, Energy Efficient Buildings, Building Services (HVAC Systems, Electrical Systems in Buildings/Lighting & Illumination, Fire Safety, Acoustics of Buildings, Plumbing), Integrated Building Design, Green Buildings, Construction Management and Conservation of Heritage Buildings. Students have choice to select the field of their interest by studying two (2) relevant elective courses in 7th & 8th semester and final year project in the same area. This conforms with the offering of specialized field in Architectural Engineering Program at various international universities. Click for more details (HPEEBH 2018).
How toBuy an Essay PaperIs it too late to obtain an essay paper? Have you been bored of hunting to get a composition paper for university students who desire your help? Below are a few ideas on what to locate and buy a composition document.First, you have to understand that there are a range of places where you'll find an essay paper for faculty students. There are websites where you can ask a paper from other universities. Some of these businesses actually provide writing essay for their customers without charging any such thing.There are also a lot of websites which you can use to request to get an essay document for faculty students. You may check the list of these internet sites on the internet by yourself. And also you are going to understand there are a few of them on the internet.You will also have the capacity to search for this at the significant university on the web.
When hunting, ensure that you don't misspell the name of this faculty, since this is a huge problem for colleges to resolve. Some colleges find it tricky to fix this issue as it's quite common to misspell the name of the school.Yet another thing you ought to be aware of is that you should be cautious about which article you buy. Be certain that the article is in good condition. You need to get it from a trustworthy company with decent authenticity.To be sure the essay paper you're about to buy is great quality, then assess out the following things: The writing style. Check whether it's the conversational writing style.Check perhaps the essay contains references and facts. Additionally check whether the article includes reliable research findings. Once you find out about such matters, you can buy a cheap essay readily.
One of the important gauge for the success of any program is intake of quality students. The department remained successful since its establishment to enroll high merit students. In this context, the merit of the architectural engineering department remained between 6th to 8th position among total nineteen undergraduate programs at UET. The public response to this newly introduced program can be assessed from the choice of the students that position holders of various Boards of Intermediate & Secondary Education and Punjab Board of Technical Education preferred to join Architectural Engineering Program for their future. Moreover, the enrollment data of batches 2014, 2015 and 2016 reflects that majority of the students had option to join the disciplines of higher merit but they preferred Architectural Engineering for their higher studies.
The department has adopted Outcome Based Education (OBE) system since 2015 and it has further strengthened the relationship with building industry. The professionals from building industry provide their valuable input for design and development of Curriculum and welcome the graduates for their role in building industry. Department has made a successful system for evaluation of graduates by involving professionals from building industry in direct and indirect assessment process. The outcome based education system in Architectural Engineering program provides an effective interaction among teachers and students to find out the solution of various problems related to student's difficulties and understanding in studies. The graduate attributes like knowledge, skills and attitude have been given more attention under this system. The adoption of Outcome Based Education further provides opportunity to graduates for working in any organization of the world under Washington Accord of which Pakistan has recently became signatory member through PEC.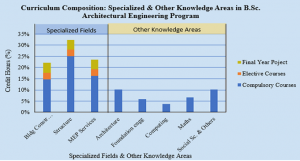 The department has faculty from various disciplines including Architecture, Architectural Engineering, Civil Engineering, Electrical Engineering, Mechanical Engineering and Environmental Engineering. The faculty members are involved in various research projects which have direct impact on societal benefits. The major research areas include; Construction Materials, Conservation/Renovation/Rehabilitation of old buildings, Energy Efficient Buildings, Construction Management, Building Structures, Integrated Building Design and Sustainable Materials.
The physical environment of the department plays an important role in learning process, personality building and attitude of the students. The present building of Architectural Engineering and Design was completed in 2006 which was purpose built having 29500 sft area including Students and Administrative blocks. The students' block is comprised of three digital studios, one drawing studio, lecture theater, four laboratory rooms, one common room for female students and a library. The prominent feature of students' block is wide double and single loaded corridor to accommodate students' movement/circulation easily. Wide corridors provide space for project/work display which becomes an additional source of collaborative learning. The corridors have built-in spaces with seating arrangement for social interaction and out of class discussions on academics in free hours. The students' block provides conducive and learning environment to the users and all students feel themselves like a family at the department.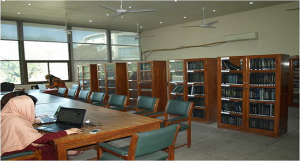 The departmental Library

Graduating students with Vice Chancellor, Dean and Chairman